US Senior Amateur Qualifying - Woodcreek Club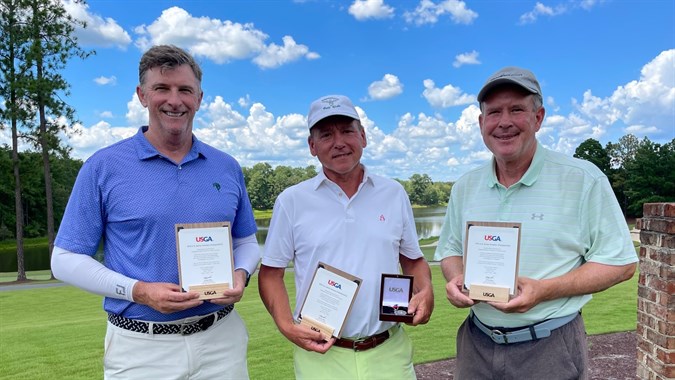 ELGIN, S.C. (August 8, 2022) -- Final results from U.S. Senior Amateur Qualifying at The Woodcreek Club in Elgin, S.C. on Monday, August 8, 2022 (6,713 yards, par 72).
Three qualifying spots and two alternate spots were available at this qualifying site.
Gary Smith of Hilton Head Island, S.C. won medalist honors with a round of six-under-par 66. Bob Bailey of Yorktown, VA and Walker Taylor of Wrightsville Beach, N.C. both shot one-under-par rounds of 71 to claim the second and third qualifying positions. Four golfers shot even-par 72 and a playoff was needed to settle the alternate positions. Eddie Hargett of Blythewood, S.C. won the first alternate position and Brian Westveer of Charlotte, N.C. will be the second alternate.
The qualifiers will advance to the 67th U.S. Senior Amateur Championship at The Kittansett Club in Marion, Mass. from August 27 – September 1, 2022.
Hole-by-hole scoring can be viewed here.
US Senior Amateur Qualifying Results
The Woodcreek Club, Elgin, S.C.
August 8, 2022
Pos.

Player

Affiliation

To Par

Total Score

Details

1

Gary Smith

Hilton Head Island, South Carolina

-6

66

T2

Bob Bailey

Yorktown, Virginia

-1

71

T2

Walker Taylor

Wrightsville Beach, North Carolina

-1

71

The following players did not make the cut

CUT

Eddie Hargett

Blythewood, South Carolina

E

72

First Alternate

CUT

Brian Westveer

Charlotte, North Carolina

E

72

Second Alternate

CUT

Dan Sullivan

Columbia, South Carolina

E

72

CUT

Walter Todd

Laurens, South Carolina

E

72

CUT

Keith Waters

Raleigh, North Carolina

2

74

CUT

David Jones

Hilton Head Island, South Carolina

2

74

CUT

Walter Odiorne

Blythewood, South Carolina

3

75

CUT

Jose Alvarez

Greenville, South Carolina

3

75

CUT

Denis Blouin

Tega cay, South Carolina

3

75

CUT

Chris Culler

Camden, South Carolina

3

75

CUT

Dean Parziale

Whispering pines, North Carolina

3

75

CUT

Evan Long

Charlotte, North Carolina

3

75

CUT

Steven Liebler

Irmo, South Carolina

4

76

CUT

Derek Paton

Lundin links

4

76

CUT

William Deebo Kelly

Camden, South Carolina

4

76

CUT

Mark Nickerson

Greensboro, Georgia

4

76

CUT

David Brown

Conover, North Carolina

4

76

CUT

John Fritz

Mint hill, North Carolina

4

76

CUT

Tony Nimmer

Okatie, South Carolina

5

77

CUT

Timothy Papa

Bluffton, South Carolina

5

77

CUT

Bob Edens

Columbia, South Carolina

5

77

CUT

Ron Schroder

Simpsonville, South Carolina

6

78

CUT

Brigham Gibbs

Salt lake city, Utah

6

78

CUT

Jimmy Hyams

Charleston, South Carolina

6

78

CUT

Richard Rebholz

Johns island, South Carolina

6

78

CUT

Yancey Johnson

Simpsonville, South Carolina

6

78

CUT

Mark Hodges

Belmont, North Carolina

6

78

CUT

Ted Ball

Kiawah island, South Carolina

7

79

CUT

Terry Mccafferty

Wake forest, North Carolina

7

79

CUT

Charlie Hall

Hilton head island, South Carolina

7

79

CUT

Neal Morrison

Charlotte, North Carolina

7

79

CUT

Barry Fabyan

Charlotte, North Carolina

7

79

CUT

Scott Ferrell

Saint simons island, Georgia

7

79

CUT

Phil Mcquitty

Bluffton, South Carolina

8

80

CUT

Michael Funk

Pooler, Georgia

8

80

CUT

Jimmy Squires

Boone, North Carolina

8

80

CUT

Joe Sumrow

Charlotte, North Carolina

8

80

CUT

Jeffrey Kane

Savannah, Georgia

9

81

CUT

Michael Gravley

Greer, South Carolina

9

81

CUT

Donald Miller

Alpharetta, Georgia

9

81

CUT

David Swoap

Simpsonville, South Carolina

9

81

CUT

Todd Sagmoe

Charlotte, North Carolina

9

81

CUT

Terry Willis

Taylors, South Carolina

10

82

CUT

Dennis Scott

Greenville, South Carolina

10

82

CUT

Keith Kepley

Charlotte, North Carolina

10

82

CUT

Ed Burchfield

Sunset, South Carolina

10

82

CUT

Robin Alley

Columbia, South Carolina

10

82

CUT

Jim Gallagher

Charlotte, North Carolina

11

83

CUT

Casey Smith

Abbeville, South Carolina

11

83

CUT

Evan DeWulf

Waxhaw, North Carolina

11

83

CUT

Paul Klasing

Hilton head island, South Carolina

11

83

CUT

Gary Upton

Simpsonville, South Carolina

12

84

CUT

Mark Moore

Ninety six, South Carolina

13

85

CUT

Toshi Hirata

Pooler, Georgia

14

86

CUT

Lyman Fulton

Johnson city, Tennessee

15

87

CUT

Chip Hunter

Georgetown, South Carolina

17

89

CUT

JAMES DEVITO

Summerville, South Carolina

17

89

CUT

Ken Taylor

Elgin, South Carolina

18

90

CUT

Todd Webber

Moore, South Carolina

18

90

CUT

Joe Sailers

Huntersville, North Carolina

30

102

WD

Larry Christ

Travelers rest, South Carolina

-

WD

WD

James Tarulli

Waxhaw, North Carolina

-

WD

WD

Tom Cone

Concord, North Carolina

-

WD

WD

Frank Ford III

Charleston, South Carolina

-

WD

CUT

Bob Stonikas

Bonita springs, Florida

-

DNF

NS

Eric Hjortness

Wisconsin rapids, Wisconsin

-

NS