US Mid-Am Qualifying - Patriot Golf Club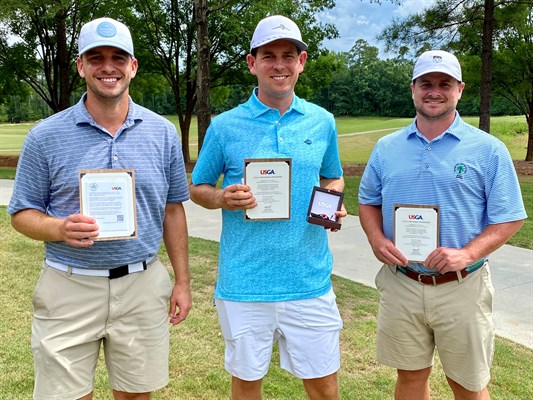 NINETY SIX, S.C. (August 18, 2022) -- Final results from U.S. Mid-Amateur Qualifying at The Patriot Golf Club at Grand Harbor in Ninety Six, S.C. on Thursday, August 18, 2022 (7,000 yards, par 72).
Three qualifying spots and two alternate spots were available at this qualifying site.
Preston Dembowiak of Kernersville, N.C. won medalist honors with a score of six-under-par 66. Sam Jackson of West Columbia, S.C. and Nelson Dickson of Simpsonville, N.C. claimed the second and third qualifying positions with rounds of five-under-par 67s. Four players finished at four-under-par 68 and needed a playoff to determine the alternates. David Gibson of Lexington, S.C. outlasted the group to earn the first alternate positon and Crawford Reeves of Greenville, S.C. will be the second alternate.
The qualifiers will advance to the 41st U.S. Mid-Amateur Championship at Erin Hills in Erin, Wisconsin from September 10-15, 2022.
Hole-by-hole scoring can be viewed here.
US Mid-Amateur Qualifying Results
Mill Creek Golf Club, Mebane, N.C.
August 18, 2022
Pos.

Player

Affiliation

To Par

Total Score

Details

1

Preston Dembowiak

Kernersville, North Carolina

-6

66

T2

Sam Jackson

West Columbia, South Carolina

-5

67

T2

Nelson Dickson

Simpsonville, South Carolina

-5

67

The following players did not make the cut

CUT

David Gibson

Lexington, South Carolina

-4

68

First Alternate

CUT

Crawford Reeves

Greenville, South Carolina

-4

68

Second Alternate

CUT

David Denham

Athens, Georgia

-4

68

CUT

Bob Royak

Alpharetta, Georgia

-4

68

CUT

Jordan Sease

Columbia, South Carolina

-3

69

CUT

Chad Siefert

Greenville, South Carolina

-3

69

CUT

Hunter Parks

Spartanburg, South Carolina

-3

69

CUT

Paul Fitzgerald

Charlotte, North Carolina

-3

69

CUT

Robbie Biershenk

Greenville, South Carolina

-2

70

CUT

Ryan Baucom

Charlotte, North Carolina

-2

70

CUT

Cass Sigmon

Mt. Pleasant, South Carolina

-2

70

CUT

Zachary Herold

Lexington, South Carolina

-2

70

CUT

Brent Whitehead

Atlanta, Georgia

-2

70

CUT

Ford Blanchard

Charleston, South Carolina

-1

71

CUT

Brad Mangum

Granite Falls, North Carolina

E

72

CUT

Greg Harrold

York, South Carolina

E

72

CUT

Chris Blackburn

Augusta, Georgia

E

72

CUT

Rj Foltz

Union, Kentucky

E

72

CUT

Zachary Bishop

Travelers Rest, South Carolina

E

72

CUT

Andrew Campbell

Peachtree Corners, Georgia

E

72

CUT

Michael Tulacz

Rock Hill, South Carolina

E

72

CUT

Michael Pearson

Atlanta, Georgia

E

72

CUT

Brian Quackenbush

Aiken, South Carolina

1

73

CUT

Todd White

Spartanburg, South Carolina

1

73

CUT

Jeffrey Moats

Greenwood, South Carolina

1

73

CUT

Robert Andrews

Columbia, South Carolina

1

73

CUT

Bradley Kauffman

Greenville, South Carolina

1

73

CUT

Jacob Golliday

Charlotte, North Carolina

1

73

CUT

Emmett Turner

Augusta, Georgia

1

73

CUT

Bobby Dean

Mint Hill, North Carolina

1

73

CUT

Shaw James

Columbia, South Carolina

1

73

CUT

Matthew Musolf

Martinez, Georgia

1

73

CUT

Rusty Mosley

Vidalia, Georgia

1

73

CUT

Chris Eassy

Simpsonville, South Carolina

2

74

CUT

Mayson Petty

Charlotte, North Carolina

2

74

CUT

Troy Miller

Charleston, South Carolina

2

74

CUT

Rich Montgomery

Little River, South Carolina

2

74

CUT

Todd Grear

Mooresville, North Carolina

2

74

CUT

Jared Crane

Greenville, South Carolina

3

75

CUT

Jay Biber

Charlotte, North Carolina

3

75

CUT

Spencer Skiff

Columbia, South Carolina

3

75

CUT

Timothy Barto

Kittanning, Pennsylvania

4

76

CUT

Vince Van Brunt

Atlanta, Georgia

4

76

CUT

Matthew Williams

Augusta, Georgia

4

76

CUT

Cj Gatto

Statesboro, Georgia

4

76

CUT

Davis Hall

Windermere, Florida

4

76

CUT

Matt Reed

Atlanta, Georgia

4

76

CUT

Clark Palmer

Augusta, Georgia

5

77

CUT

Jacob Pilarski

Buffalo, New York

5

77

CUT

Matthew King

Atlanta, Georgia

5

77

CUT

Andrew Cajka

Charlotte, North Carolina

5

77

CUT

Russ Gillig

Taylors, South Carolina

5

77

CUT

Thomas Parker

Charlotte, North Carolina

6

78

CUT

Jeffrey Bauer

Okatie, South Carolina

6

78

CUT

Charles Griffin

Asheville, North Carolina

6

78

CUT

Jose Tomas Bull Soruco

6

78

CUT

Jonathan Thomas

Greenville, South Carolina

6

78

CUT

Drake Cassidy

Hartsville, South Carolina

7

79

CUT

John Zmuda

Columbia, South Carolina

7

79

CUT

Robert Mize

Augusta, Georgia

7

79

CUT

Bryan Covar

Lexington, South Carolina

7

79

CUT

Duncan Littlefield

Charlotte, North Carolina

8

80

CUT

Charlie Bagwell

Spartanburg, South Carolina

8

80

CUT

Daniel Jackson

Indian Trail, North Carolina

8

80

CUT

Rick Leslie

Dawsonville, Georgia

9

81

CUT

Dylan Murray

North Augusta, South Carolina

9

81

CUT

Travis Gantt

Charleston, South Carolina

11

83

CUT

Randy Hodges

Monroe, North Carolina

13

85

CUT

Patrick Martin

Saluda, South Carolina

13

85

CUT

Dylan Bartell

Ninety Six, South Carolina

14

86

CUT

Mitch Harbin

Williamston, South Carolina

17

89

WD

Ryan Blair

Charlotte, North Carolina

-

WD

NC

Brandon Webb

Saluda, South Carolina

-

NC

NS

Chris Cupit

Johns Creek, Georgia

-

NS

WD

Brian Carter

Atlanta, Georgia

-

WD

NS

Jarrett Grimes

Columbia, South Carolina

-

NS