Hartwiger Victorious at Carolinas Senior Women's Am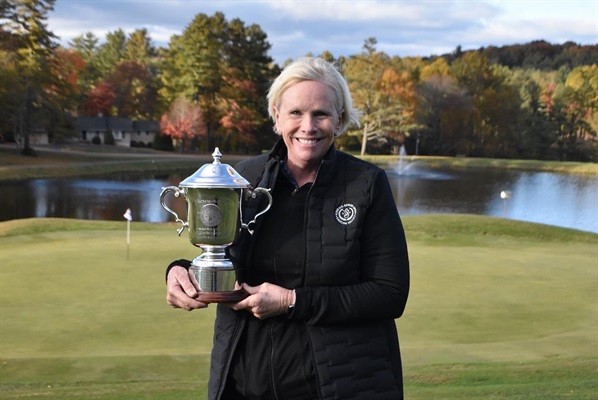 ROARING GAP, N.C. (October 18, 2022) -- Final results of the 24th Carolinas Senior Women's Amateur Championship at High Meadows Country Club in Roaring Gap, N.C. on October 18, 2022. The Championship Division competed at 5,396 yards and the Carolinas Division competed at 4,691 yards (36-36--72).

Related: Championship Website | Full Field | Scoring | History
In her very first CGA event since moving to North Carolina a little over two months ago, Kathy Hartwiger of Pinehurst, N.C. persevered through tough weather conditions to bring home the hardware at the 24th Carolinas Senior Women's Amateur Championship.
"I don't know if I ever remember being this cold in a tournament, especially toward the end, so it was a test. More than just golf was testing us. And truthfully, I think the weather being so hard actually helped because I never got ahead of myself. I couldn't. It was sort of like 'gloves, hat, coat, then reverse'. So just doing that with the pre-shot routine every time. I think for me, that's what was key today."
While this is Hartwiger's first CGA title, she is no stranger to the winner's circle. A recent transplant from Alabama, she is a U.S. Women's Mid-Amateur Champion (2002), has over 20 Alabama Golf Association titles and numerous AGA records, and most recently she won the North & South Senior Women's Amateur at Pinehurst Resort days after moving to North Carolina.
"When I won the North & South Senior right after we moved here, I felt like it was a welcome to North Carolina. I am just so happy to be here."
Hartwiger entered the final round four strokes back from first round leader and 2020 champion, Pam Prescott of Piedmont, S.C. and three strokes back from 6-time champion of this event, Pat Brogden of Garner, N.C. When asked if Hartwiger had a game plan for overcoming her deficit from the first round, she admitted that she wasn't really thinking about winning or losing, just playing her game.
"Winning or losing or coming in second or third, it doesn't fundamentally change my life. My husband still loves me, my kids still love, and God still loves me. I've played a lot trying to win, thinking somehow winning was going to do it for me and it didn't. So, that's kind of ironically when I started winning, when I gave up that thought process. I love what I learn from golf each time that I play. It's such a challenge. No course is the same, no conditions are the same, no day is the same and it presses you and things come out. So I learn things about myself and that is what I really love about golf."
Despite the cold temperatures and wind gusting throughout the day, Hartwiger was able to put together one of only two rounds in red numbers. First-round leader Prescott struggled in the final round, but Hartwiger had to battle Pat Brogden in the final group all day. Hartwiger chipped away at Brogden's lead and secured a 1-stroke lead at the turn, but the momentum shift came on the inward nine. After making birdie at No. 14, Hartwiger made her fifth birdie of the day on No. 15 while Brogden made bogey, a two-stroke swing to put Hartwiger ahead by four strokes. From there, Hartwiger was able to cruise to victory.
While Hartwiger knows what it feels like to win, she was extra excited to get her first CGA win in her new home state.
"I'm just excited. This is a strong golf atmosphere, we have great women here and the CGA is so good and strong. So I'm just beyond happy to be in the Carolinas. I've been using the term "vibrating with joy" since moving here."
Pat Brogden finished the tournament at even-par 144 after an opening round 69 to secure runner-up. Defending champion Jayne Pardus of Mt. Pleasant, S.C. had the only other final round in red numbers, carding a one-under-par 71 after her opening round 76. Pardus finished in third overall. Rounding out the top five were Judy Penman of Pinehurst, N.C. and Kerry Rutan of Daniel Island, S.C. at 6-over-par 150 in a tie for fourth place.
In the Carolinas Division, Tammy Johnson of Taylorsville, N.C. carded a one-over-par 73 in the final round for a 9-over-par 153 overall to claim back-to-back Carolinas Division wins in this championship.
Therese St. Peter of Southern Pines, N.C. finished second in the Carolinas Division, but was able to bring home the Low Super Senior Award for the championship.
The Carolinas Golf Association would like to extend a sincere thank you to the excellent staff at High Meadows Country Club for hosting the 24th Carolinas Senior Women's Amateur Championship.
24th Carolinas Senior Women's Amateur Championship
HIgh Meadows Country Club, Roaring Gap, N.C.
Final Results