US Women's Four-Ball Qualifying - Forest Oaks CC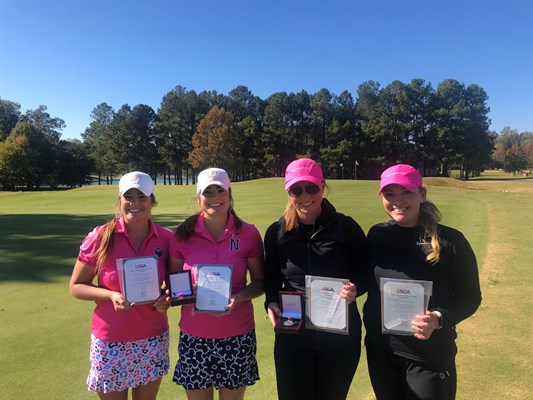 GREENSBORO, N.C. (October 23, 2022) -- Final results from U.S. Women's Amateur Four-Ball Qualifying at Forest Oaks Country Club in Greensboro, N.C. on Sunday, October 23, 2022 (6,253 yards, par 72).
Two qualifying sides and two alternate sides were available at this qualifying site.
The side of Teleri Hughes of Knoxville, TN and Blakesly Brock of Chattanooga, TN fired a round of five-under-par 67 to share medalist honors with the side of Sarah Spicer and Jessica Spicer of Bahama, NC. Two sides shot rounds of four-under-par 68 and went to a playoff to determine the alternate positions. The side of Riley Hamilton of Reidsville, N.C. and Karissa Kilby of Honolulu, HI birdied the first playoff hole to take the first alternate position. The side of Caroline Smith of Inverness, IL and Georgia Ruffolo of Tampa, FL will be the second alternates.
The qualifiers will advance to the 8th U.S. Women's Amateur Four-Ball Championship at The Home Course in Dupont, Washington from May 13-17, 2023.
Hole-by-hole scoring can be viewed here.
US Women's Amateur Four-Ball Qualifying Results
Forest Oaks Country Club, Greensboro, N.C.
October 23, 2022
Pos.

Players

Affiliation

To Par

Total Score

Details

T1

Teleri Hughes + Blakesly Brock

Knoxville, Tennessee, Chattanooga, Tennessee

-5

67

T1

Sarah Spicer + Jessica Spicer

Bahama, North Carolina

-5

67

The following players did not make the cut

CUT

Riley Hamilton + Karissa Kilby

Reidsville, North Carolina, Honolulu, Hawaii

-4

68

First Alternate

CUT

Caroline Smith + Georgia Ruffolo

Inverness, Illinois, Tampa, Florida

-4

68

Second Alternate

CUT

Ella June Hannant + Jenna Kim

Pikeville, North Carolina, Raleigh, North Carolina

-3

69

CUT

Mallory Fobes + Nicole Adam

East Bend, North Carolina, Pinehurst, North Carolina

-3

69

CUT

Gracie Song + Saia Rampersaud

Waxhaw, North Carolina, Durham, North Carolina

-2

70

CUT

Helen Yeung + Irene Kim

Clarksville, Maryland, Woodstock, Maryland

-2

70

CUT

Ashley Lafontaine + Emma Hansen

Ottawa, Ontario, Burlington, Ontario

-2

70

CUT

Jolie Pastorick + Emerson Roychoudhury

Sarasota, Florida, Leesburg, Virginia

-1

71

CUT

Kasey Mcilvaine + Garland Gould

Raleigh, North Carolina

E

72

CUT

Julie Streng + Amber Marsh Elliott

Greensboro, North Carolina

E

72

CUT

Keya Naik + Paris Fieldings

Ashburn, Virginia, Chesapeake, Virginia

E

72

CUT

Isabela Miravite + Vileska Gelpi

Marikina City, Markleton, Pennsylvania

1

73

CUT

Katie Miller + Madison Smithco

Oakmont, PA, Cranberry Township, PA

1

73

CUT

Carol Davies + Kristin Shifflett

Garrett Park, Maryland, Fredericksburg, Virginia

3

75

CUT

Lily Morrison + Julie Lechner

Jacksonville, Florida, St. Augustine, Florida

4

76