Like Mother, Like Daughter, Kuehn's Big Day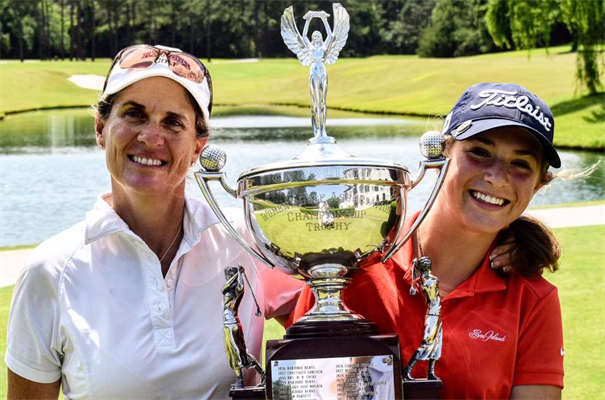 SOUTHERN PINES, N.C. – Wednesday, May 24, was a special day for the Kuehn family that won't soon be forgotten. First, Brenda Kuehn won the North Carolina Senior Women's Amateur Championship (and back to back) for the Carolinas Golf Association at Oak Valley Golf Club in Advance, N.C. Then, later the same day, her daughter, Rachel Kuehn, on the Wake Forest golf team, captured the NCAA Championship, defeating Southern California, 3-1, in match-play from Scottsdale, Arizona.
This mother-daughter connection for the Kuehn's is nothing new. In 2001, Brenda won the Carolinas Women's Amateur Championship while she was eight months pregnant with Rachel; 16 years later, Rachel won the same championship when she was just 15 years old. The pair now own twelve CGA Champion titles to their combined names.
"We are very close. We would be close regardless of golf, but golf has become the common glue of our relationship," said Brenda on her relationship with her daughter. "It's pretty neat that we both ended up winning on the same day."
While Brenda had a successful amateur golf career, she is incredibly proud of everything her daughter has accomplished thus far. "The roles are reversed. Growing up, I taught her, and now she is so far above me. So she'll return, and I'll say, "hey Rachel, what do you think about my putting." Brenda added, "As a mom, seeing your child surpass you gives you pride, joy, and happiness.
The pride and respect are very much mutual. "I am so proud of my mom because she has been learning to put herself back out there in competitive golf…It was just so special for us to both win on the same day," said Rachel. "My mom has taught me so much of what I know now about golf… I'm forever grateful to her for that."
Even though Brenda was not in Arizona, that is all she could think about, "I was playing at the CGA, but my mind was over there in Arizona." After Brenda won the North Carolina Senior Women's Amateur Championship, she went straight home to catch her daughter's afternoon tee time, "There were some tears…when they won, my house just echoed."
Rachel just finished her senior year at Wake Forest. This national championship adds to her laundry list of accomplishments in golf as she continues her golf career. She was selected as a WGCA All-American with First Team honors, becoming a four-time All-American. Additionally, this year, she became the first back-to-back ACC Player of the Year in Wake Forest Women's Golf history. She was named a finalist for the ANNIKA Award and selected for the 2023 Arnold Palmer Cup this summer. Brenda added, "It makes me very proud to see how much she has accomplished; she has accomplished so much."
The future still appears bright for both, and this mother-daughter tandem is even more potent than just the beautiful things golf brings together. "I know I could never pick up a golf club again, and we would still be just as close as now as we were tomorrow as we are today," remarked Rachel. She really is my best friend. To have that extra bond through golf is incredible.
Indeed the family trophy case still appears to be far from being finished. This past Wednesday was another prime example of this dynamic duo and the growing legend in the Carolinas.
About the Carolinas Golf Association (CGA)
The CGA is a 501(c)(3) not-for-profit educational organization founded in 1909 to promote and protect the game of golf in the Carolinas by providing competitions, education, support and benefits to golf clubs and golfers. The CGA is the second largest golf association in the country with over 700 member clubs represented by nearly 150,000 individuals. The CGA annually conducts 48 championships and five team match competitions for men, women, juniors, and seniors. It also runs over 150 One-Day (net and gross) events and qualifying for USGA national championships. The CGA serves golf in the Carolinas with numerous programs such as: the USGA Handicap System; tournament management software and support; course measuring and course/slope ratings; agronomy consultation; answers about the Rules of Golf, Rules of Amateur Status, and Handicapping; Carolinas Golf Magazine; Interclub series; Tarheel Youth Golf Association; Carolinas Golf Hall of Fame; expense assistance for USGA Junior and Girls' Junior qualifiers from the Carolinas; and the Carolinas Golf Foundation (CGF). The CGF has distributed nearly $2,000,000 since 1977 to benefit Carolinas' golf initiatives including junior and women's programs.
For more information about the Carolinas Golf Association, follow @cgagolf1909 on Instagram, Twitter, Facebook, and TikTok or visit our website www.carolinasgolf.org/
#30#