US Junior Amateur Qualifying - Daniel Island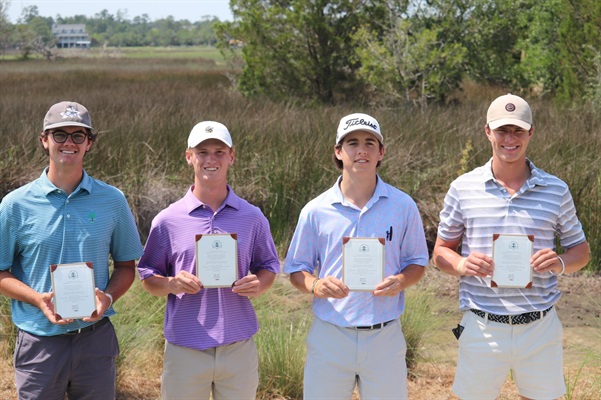 CHARLESTON, S.C. (June 5, 2023) -- Final results from U.S. Junior Amateur Qualifying at Daniel Island's Beresford Course in Charleston, S.C. on Monday, June 5, 2023. (6,970 yards, par 72).
Four qualifying spots and two alternate spots were available at this qualifying site.
Alex Long of Lakewood Ranch, Florida won medalist honors with a round of three-under-par 69. Colin Salema of Matthews, N.C. shot two-under-par 70 and Rowan Sullivan of Charleston, S.C. and Davis Neal of North Augusta, S.C. shot one-under-par 71 to claim the four qualifying spots. Four players finished at even-par 72 and were in a playoff to determine the alternate positions. William Jennings of Greenville, S.C. will be the first alternate and Garret Fader of Hilton Head, S.C. will be the second alternate.
The qualifiers will advance to play in the championship at Daniel Island from July 24-29.
Hole-by-hole scoring can be viewed here.
US Junior Amateur Qualifying Results
Daniel Island Club (Beresford), Charleston, S.C.
June 5, 2023
Pos.

Player

Hometown

To Par

Total Score

Details

1

Alex Long

Lakewood Ranch, Florida

-3

69

2

Colin Salema

Matthews, North Carolina

-2

70

T3

Rowan Sullivan

Charleston, South Carolina

-1

71

T3

Davis Neal

North Augusta, South Carolina

-1

71

The following players did not make the cut

CUT

William Jennings

Greenville, South Carolina

E

72

First Alternate

CUT

Garret Fader

Hilton Head, South Carolina

E

72

Second Alternate

CUT

Harris Holstein

Orangeburg, South Carolina

E

72

CUT

Sage Bradshaw

Bluffton, South Carolina

E

72

CUT

Hugh Lemonds Jr.

Spartanburg, South Carolina

1

73

CUT

Waymon Thomas

Mt Pleasant, South Carolina

1

73

CUT

Ryan Bozard

Hollywood, South Carolina

1

73

CUT

Lucas Acevedo

Charleston, South Carolina

1

73

CUT

Hamilton Coleman

Martinez, Georgia

1

73

CUT

Charles Cauthen

Columbia, South Carolina

1

73

CUT

Ian Kim

Sydney

2

74

CUT

Dallas Johnson

Mount Pleasant, South Carolina

2

74

CUT

Andrew Neal

Cary, North Carolina

2

74

CUT

Logan Lutz

Mount Pleasant, South Carolina

2

74

CUT

Jamen Sanders

Goose Creek, South Carolina

2

74

CUT

Matthew Teegardin

Charleston, South Carolina

2

74

CUT

Peter Myers

Pinehurst, North Carolina

2

74

CUT

Miles Eubanks

Warrenville, South Carolina

2

74

CUT

Carter Allison

Awendaw, South Carolina

2

74

CUT

Spence Hagood

Greenwood, South Carolina

3

75

CUT

Ashton Eubanks

Lexington, South Carolina

3

75

CUT

Daniel Donato

Mount Pleasant, South Carolina

4

76

CUT

Ryan Wijaya

Hilton Head Island, South Carolina

4

76

CUT

Reece Sanders

Southern Pines, North Carolina

4

76

CUT

Jared Myers

Stanley, North Carolina

4

76

CUT

Mason Slaughter

Florence, South Carolina

4

76

CUT

Luke Walmet

Charleston, South Carolina

4

76

CUT

Sam Mcmillan

Mount Pleasant, South Carolina

5

77

CUT

Hudson Hatch

Charleston, South Carolina

5

77

CUT

Chase Cline

Chapin, South Carolina

5

77

CUT

Cooper Stearns

Tustin, California

5

77

CUT

Hugh Faulkner

Greenville, South Carolina

5

77

CUT

Griffin Cheatwood

Charlotte, North Carolina

5

77

CUT

Oliver Tobin

Charlotte, North Carolina

5

77

CUT

Jeep Patrick

Hilton Head, South Carolina

6

78

CUT

Dylan Park

Easley, South Carolina

6

78

CUT

Will Ruth

Moore, South Carolina

6

78

CUT

Thomas Lamar

Columbia, South Carolina

6

78

CUT

Bennett Scaletta

Belton, South Carolina

6

78

CUT

Coleman Ferguson

Columbia, South Carolina

7

79

CUT

Harrison James

Chapin, South Carolina

7

79

CUT

Owen Atkinson

Columbia, South Carolina

7

79

CUT

Jason Zawtocki

Charlotte, North Carolina

7

79

CUT

Groves Williams

Greenville, South Carolina

7

79

CUT

Grant Paolucci

Blythewood, South Carolina

8

80

CUT

Teddy Brisson

Charleston, South Carolina

8

80

CUT

Maxwell Johnson

Daniel Island, South Carolina

9

81

CUT

Ot Mitchell

Fort Mill, South Carolina

9

81

CUT

Dylan Ma

Jacksonville, Florida

9

81

CUT

Charlie Reyner

Greenville, South Carolina

9

81

CUT

Cameron Biddle

Aiken, South Carolina

10

82

CUT

Jones Saylor

Bluffton, South Carolina

10

82

CUT

Charles Stanley

Warrenville, South Carolina

10

82

CUT

Parker Melin

Ponte Vedra Beach, Florida

10

82

CUT

Jackson Scaletta

Belton, South Carolina

10

82

CUT

Thomas Ford

Hilton Head Island, South Carolina

10

82

CUT

Simon Dimaggio

Hollywood, South Carolina

11

83

CUT

Jr Passmore

Mount Pleasant, South Carolina

12

84

CUT

Jack Wieler

Waxhaw, North Carolina

12

84

CUT

Jp Carr

Hilton Head, South Carolina

12

84

CUT

Joshua Setiadi

Hilton Head Island, South Carolina

13

85

CUT

Drew Sutherland

Macon, Georgia

13

85

CUT

Gage Howard

Woodruff, South Carolina

13

85

CUT

John Thompson

Columbia, South Carolina

13

85

CUT

Matthew Utz

Davidson, North Carolina

13

85

CUT

Morris Lane

Savannah, Georgia

13

85

CUT

Jack Seward

Florence, South Carolina

13

85

CUT

Gage Gaskins

Leesville, South Carolina

14

86

CUT

Tyler Newsome

Augusta, Georgia

15

87

CUT

Harrison Bell

Mcdonough, Georgia

16

88

CUT

Wyatt Hightower

Chapin, South Carolina

17

89

CUT

Richard Anaclerio

Aiken, South Carolina

17

89

CUT

Maximilian Devito

Summerville, South Carolina

17

89

CUT

James Gibson

Lexington, South Carolina

19

91

CUT

Cameron Estridge

Charlotte, North Carolina

20

92

CUT

Easton Cox

Aynor, South Carolina

20

92

CUT

Julian Clark

Shallotte, North Carolina

27

99

WD

Blake Bocelli

Mount Pleasant, South Carolina

-

WD