First Rd of NC Am to Complete Friday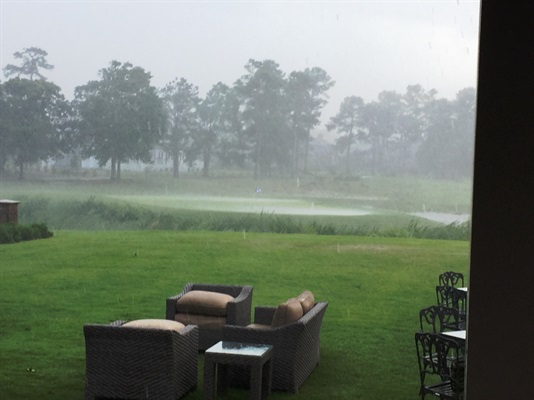 North Carolina Amateur Championship Suspended Until Friday Morning Due to Heavy Wind and Storms
WILMINGTON, NC – Half of the field remains on the course at the 55th North Carolina Amateur Championship hosted by The Country Club of Landfall (Nicklaus Course) in Wilmington, NC on Thursday, June 18, 2015 (6930 yards, Par 36-36—72, Rating: 74.3/142).
Violent wind left trees and debris scattered all across Country Club of Landfall's Nicklaus Course Thursday afternoon and half the field left to finish their first round. At 3:30pm play was suspended due to lightning in the area. About 4:15pm strong winds and torrential rain engulfed the course and left a trail of destruction reminiscent of a tropical storm.
The morning wave was able to finish the round under sunny and very warm conditions. Three players finished the day under par, and all shot 4-under par in doing so. David Germann, Thomas Eldrige, and David Kocher made the most of the favorable conditions in the morning and got in before the storms came. David Germann on the morning conditions "It was definitely cooler in the morning and the wind on the Ocean Course (front nine) will pick up later in the day."
Thomas Eldridge reflects on his first round: https://www.youtube.com/watch?v=P_j7U4H3H6w&feature=youtu.be
One player joined them (unofficially) from the afternoon at 4-under par. Current, and back to back Carolinas Amateur Champion Carter Jenkins made two birdies and an eagle on his first five holes and will finish his first round Friday morning.
Hole-by-Hole Scoring: https://www.ghintpp.com/carolinasgolf/TPPOnlineScoring/ResultsStroke.aspx?id=1173
The First Round will resume at 10:00am. The Second Round will commence immediately after.
Updated Scheduled of Events: https://www.carolinasgolf.orgblogpost-single/home/15ncam/year/2015/id/104387/amended-nc-am-schedule-of-events