Beaupied Leads by Two at 12th N.C. Women's Senior Am
Greensboro, NC – First round results of the 12th N.C. Women's Senior Amateur Championship hosted by Starmount Forest Country Club on Tuesday, April 14, 2015. Par 36-36—72, 5650 yards (Course Rating: 72.6/133).
Susan Beaupied of Raleigh, N.C. found herself 5-over after two holes but bounced back carding four birdies on the day to shoot a 6-over par round of 78 in wet and rainy conditions. Beaupied, who played golf at the University of Chapel Hill, had a long fall and winter season off due to a foot injury back in September. "I think I was just a little nervous since I haven't played much competitive golf in quite a while. After those first two holes I just told myself to settle down and I was able to find my swing." From there, Beaupied went on to birdie the par 3 3rd.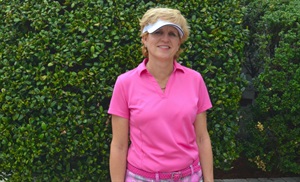 Beaupied is looking to capture her first CGA crown but she knows some past champions are lurking. Just two shots back you will find 2011 champion, Angela Stewart, M.D. of Greenville, N.C. and two time champion Melissa Sage of Charlotte, N.C. is only three shots back. Defending champion Patty Moore of Charlotte, N.C. is currently tied for 8th place.
In the tournament division, Sook Hee Yang of Jamestown, N.C. shot a 79 and leads this division by one stroke over three others. This division plays a shorter course. Carole Jones of Hillsborough, N.C. and local Marianne Hedgpeth of Greensboro, N.C. currently lead the super senior division.
Players were placed into flights within their division for the final round. Everyone will begin at 9:30am in shot-gun start. For full detailed hole-by-hole scoring please visit the championship homepage:
https://www.carolinasgolf.org/championship/home/15ncwomsenior/year/2015
Live scoring will be provided with the 1A lead group in the final round.
Interview with first round leader Susan Beaupied: https://youtu.be/7fkU651L9oM
First Round Results
Championship

1 Susan Beaupied, Pittsboro, N.C. - 41-37--78

T2 Angela Stewart, Greenville, N.C. - 41-39--80

T2 Kathy Binkley, Cornelius, N.C. - 40-40--80

T2 Kim Briele, New Bern, N.C. - 38-42--80

5 Melissa Sage, Charlotte, N.C. - 40-41--81

6 Jackie King, High Point, N.C. - 41-41--82

7 Therese St Peter, Durham, N.C. - 41-42--83

T8 Katherine DeVore, High Point, N.C. - 40-45--85

T8 Patty Moore, Charlotte, N.C. - 42-43--85

T8 Robin Cram, Jacksonville, N.C. - 43-42--85

T11 Charlotte Koh, Greensboro, N.C. - 42-44--86

T11 Leigh Armentrout, Greensboro, N.C. - 43-43--86

13 Julie Shore, Raleigh, N.C. - 43-44--87

14 Maria Malone, Greensboro, N.C. - 43-45--88

15 Linda Daniel, Huntersville, N.C. - 42-48--90

16 Betty Zvarich, Fayettville, N.C. - 49-46--95

17 Sheila Shehan, Rutherfordton, N.C. - WDI

Tournament

1 Sook Hee Yang, Jamestown, N.C. - 39-40--79

T2 Carole Jones, Hillsborough, N.C. - 41-39--80

T2 Cindy Corlett, Lexington, N.C. - 39-41--80

T2 Marianne Hedgpeth, Greensboro, N.C. - 41-39--80

T5 Lily Lee, Chapel Hill, N.C. - 42-39--81

T5 Peggy Yountz, Denver, N.C. - 41-40--81

T7 Becca McKinney, Raleigh, N.C. - 44-39--83

T7 Roselyn Powell, Greensboro, N.C. - 40-43--83

T9 Deborah Beasley, Waynesville, N.C. - 45-39--84

T9 Peggy Lea, Charlotte, N.C. - 42-42--84

11 Barbara Munnett, Winston Salem, N.C. - 45-40--85

T12 Bonnie Montgomery, Jamestown, N.C. - 45-41--86

T12 June Wang, Huntersville, N.C. - 43-43--86

T14 Clate Aydlett, Elizabeth City, N.C. - 43-44--87

T14 Jo Ann Sluder, Pinehurst, N.C. - 43-44--87

T14 Mary Rhodes, Greensboro, N.C. - 41-46--87

T17 Cheryl Stamp, Wallace, N.C. - 45-43--88

T17 Jackie Edmunds, Greensboro, N.C. - 48-40--88

T19 June Lee, Chapel Hill, N.C. - 45-44--89

T19 Kim Jones, Greensboro, N.C. - 43-46--89

T21 Dollie Watson, Lexington, N.C. - 47-43--90

T21 Rita Roberts, Southern Pines, N.C. - 48-42--90

T21 Shelly Canals, Raleigh, N.C. - 44-46--90

24 Isabelle Daley, Whispering Pines, N.C. - 48-44--92

T25 Cynthia Curry, Charlotte, N.C. - 46-47--93

T25 Linda Mims, Raleigh, N.C. - 47-46--93

27 Carmen Andia, Whitsett, N.C. - 46-48--94

28 Beverly Cassels, Charlotte, N.C. - 46-49--95

29 Peggy Hall, Belmont, N.C. - 49-47--96

T30 Nancy Rembowski, Waxhaw, N.C. - 49-49--98

T30 Nina Bennett, Greensboro, N.C. - 50-48--98

T30 Patty Camp, Southern Pines, N.C. - 50-48--98

T30 Sue Kress, Southern Pines, N.C. - 52-46--98

34 Nancy Bodycomb, Winston Salem, N.C. - 44-55--99

35 Kay Reardon, Greensboro, N.C. - 54-47--101

T36 Grace Flannagan, Greensboro, N.C. - 53-51--104

T36 Pat Vaughn, Madison, N.C. - 53-51--104

38 Kathleen Lebedz, Charlotte, N.C. - 53-54--107

T39 Jean Williamson, Greensboro, N.C. - WD

T39 Linda Marsh, Jamestown, N.C. - WD

T39 Paula Gentile, Greensboro, N.C. - WD