Petersen picks up Anderson Girls' title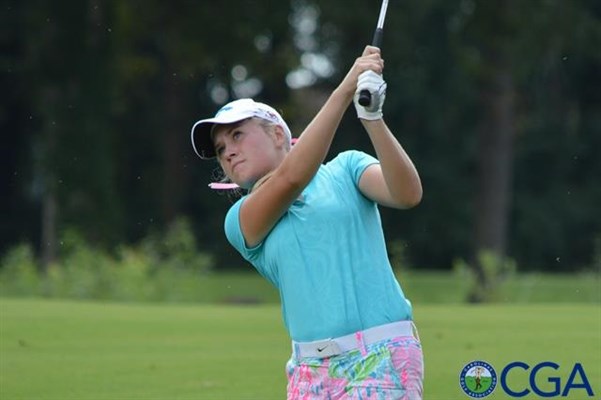 Natalie Petersen of Holly Springs, NC has been playing in the Jimmy Anderson Girls' Invitational since 2012, but had no luck in winning the tournament until her last try before moving on to college. Petersen, a high school senior who will begin her college career next fall at Georgia Southern, followed up her first round of 70 with a round of three under par 67 and finished with a two day total of five under par 137 to capture her second CGA title of 2016. Petersen won the Dogwood State Junior Championship this past August. " I really hit my irons great today. I got a new set of irons last week and they are really dialed in for me" stated Petersen. "I was able to make some putts, but most were pretty close because I was hitting my irons so well" added the Holly Springs junior. First round leader Caroline Curtis of Richmond, VA kept it close all day, but a late round bogey on the seventeenth hole gave Petersen a one shot lead headed into the par five eighteenth hole. Curtis birdied the last, but Petersen matched Curtis with her own birdie to secure the Jimmy Anderson trophy. Amy Wooten of Clinton, NC, Emily Hawkins of Lexington, NC and Muskan Uppal of Cornelius, NC all tied for third place at even par 142. The top five players each earned an invitation to the Peggy Kirk Bell Girls' Golf Tour's Tour Championship this coming November.
Due to over an inch of rain early Sunday morning on an already saturated course, the golf course was shortened so round two could be completed. Hole fourteen was shortened to a par three from 135 yards and hole fifteen was played as a par three from 165 yards. Hole seven was lengthened and played as a par five for a course par of 70.
The Jimmy Anderson Girls' Invitational is conducted in honor Mr. Jimmy Anderson for his service as golf professional at Jacksonville Country Club and his dedication and support of junior golf. Jimmy Anderson was the head golf professional at Jacksonville Country Club for over 25 years. Each Saturday morning, he conducted a junior golf clinic to help spread the game of golf to the next generation. During his tenure at Jacksonville CC, he taught many juniors including Mallory Miller, the 1987 N.C. Junior Champion and numerous future collegiate and golf professionals. Not only did he teach the game of golf, but was always there with a helpful word of encouragement to any young golfer.
A record field of 54 junior girl golfers from six different states are competing on the George Cobb designed course that opened for play in 1954 and has hosted numerous tournaments, including the Carolinas Golf Association's 2007 North Carolina Mid-Amateur. This year's event will be conducted jointly by the Carolinas Golf Association and the Peggy Kirk Bell Girls' Golf Tour.
Anderson Girls' (Round One-5714 yards, par 72, 73.5/123)

Anderson Girls' (*Round Two-5260 yards, par 70, 71.0/115)

Place

Name

Score

1

Natalie Petersen (2017), Holly Springs, NC

70-67--137

2

Caroline Curtis (2019), Richmond, VA

69-69--138

T3

Amy Wooten (2018), Clinton, NC

74-68--142

T3

Emily Hawkins (2018), Lexington, NC

72-70--142

T3

Muskan Uppal (2019), Cornelius, NC

74-68--142

6

Bailey Davis (2021), White Plains, MD

71-72--143

7

Kendall Turner (2019), Chesapeake, VA

77-67--144

T8

Jayla Rogers (2019), Wilmington, NC

72-73--145

T8

Kayla Smith (2019), Burlington, NC

72-73--145

T10

Anna McDonald (2019), Hickory, NC

75-72--147

T10

Hailey Joy (2018), Reidsville , NC

73-74--147

T12

Alyssa Campbell (2018), Lake Wylie, SC

73-76--149

T12

Caroline Crumrine (2020), Wilmington, NC

75-74--149

T14

Lotte Fox (2020), Raleigh, NC

78-72--150

T14

Naomi Mitchell (2018), Norfolk, VA

77-73--150

T14

Parker Melting (2018), Mint Hill, NC

77-73--150

T17

Cynthia Tu (2019), Vienna, VA

77-74--151

T17

Rachael Mast (2017), Lexington, NC

75-76--151

T19

Mackenzie Battle (2018), Aberdeen, NC

79-73--152

T19

Ryann Sinclair (2019), Mooresville, NC

78-74--152

T21

Emelia Pack (2019), Browns Summit, NC

77-76--153

T21

Nicole Adam (2020), Pinehurst, NC

78-75--153

T23

Hailey Freedman (2018), Chapel Hill, NC

78-76--154

T23

Sarah Funderburg (2018), Wilmington, NC

76-78--154

25

Alexia Siehl (2022), Fort Mill, SC

78-77--155

T26

Hailey Pendleton (2020), Waxhaw, NC

80-76--156

T26

Mallory Fobes (2019), East Bend, NC

78-78--156

T28

Elena Jacoby (2019), Huntersville, NC

76-82--158

T28

Hannah Rose Bruxvoort (2018), Chapel Hill, NC

83-75--158

T28

Mogie Adamchik (2017), Raleigh, NC

78-80--158

T31

Kelly Strickland (2018), Alpharetta, GA

83-77--160

T31

Michelle Harn (2019), Charlotte, NC

81-79--160

T31

Nicole Kramer (2018), Charlotte, NC

78-82--160

34

Michaela Cox (2017), Greensboro, NC

87-75--162

35

Kelley Topiwala (2020), Matthews, NC

87-77--164

T36

Emilee Wenmoth (2017), Clemmons, NC

84-81--165

T36

Paris Fieldings (2022), Suffolk, VA

84-81--165

T36

Siana Wong (2020), Summerfield, NC

86-79--165

39

Alexis Jarrell (2018), Davidson, NC

79-87--166

40

Camryn Fletcher (2019), Raleigh, NC

83-84--167

41

Madilyn Newman (2021), Knoxville, TN

85-84--169

42

Sarah Hardin (2017), West Jefferson, NC

91-79--170

43

Mara Hirtle (2020), Pinehurst, NC

89-82--171

44

Grace M Holcomb (2021), Wilmington, NC

84-89--173

45

Trinity Ahing (2019), New Bern, NC

89-85--174

46

Katelyn Kenthack (2020), Pinehurst, NC

87-89--176

47

Kate Hawkins (2018), Littleton, NC

90-87--177

48

Shalie Williams (2018), Shawboro, NC

92-88--180

49

Julie Fiedler (2021), New Bern, NC

91-90--181

50

Laney Wessels (2021), Sophia, NC

93-90--183

51

Kayla Dowell (2021), Mebane, NC

93-92--185

52

Caroline Bryant (2018), New Bern, NC

97-93--190

53

Evin Flinchum (2018), Summerfield, NC

106-87--193

54

Lauren Denhard (2019), Salisbury , NC

110-102--212
*Course was shortened for round two due to over saturation of two holes (#14 and #15)