US Junior Amateur Sectional Qualfying - Country Club of Salisbury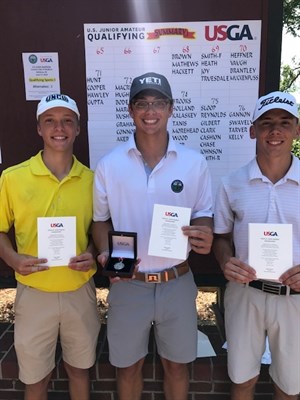 SALISBURY, NC– Final results from US Junior Amateur Sectional Qualifying hosted by Country Club of Salisbury in Salisbury, NC on Monday, June 17, 2019 (6,723 yards, par 35-36—71).
Three qualifying spots and two alternate positions were available at this qualifying site.
Zach Brown of Bermuda Run, NC, Nicholas Mathews of Mebane, NC, and Drew Hackett of Charlotte, NC won medalist honors with rounds of three-under par, 68. Parker Truesdale of Canton, NC earned the first alternate position after two playoff holes. Ike Joy of Denver, NC earned the second alternate position.
The qualifiers will advance to the US Junior Amateur Championship at Inverness Club from July 15-20, 2019.
Hole-by-hole scoring can be viewed here: https://www.golfgenius.com/pages/1801116
This qualifier was conducted by the Carolinas Golf Association on behalf of the United States Golf Association.
2019 US Junior Amateur Sectional Qualifying
Country Club of Salisbury, Salisbury, NC
Qualifying Results
Pos.

Player

To Par

Total

Details

T1

Zach Brown

-3

68

T1

Nicholas Mathews

-3

68

T1

Drew Hackett

-3

68

The following players did not make the cut

CUT

Parker Truesdale

-2

69

1st Alt

CUT

Ike Joy

-2

69

2nd Alt

CUT

Fulton Smith

-2

69

CUT

Jack Heath

-2

69

CUT

Alex Heffner

-1

70

CUT

Keegan Vaugh

-1

70

CUT

Malin Muckenfuss

-1

70

CUT

Blake Brantley

-1

70

CUT

Adam Hunt

E

71

CUT

Garrett Cooper

E

71

CUT

Will Hawley

E

71

CUT

Abhay Gupta

E

71

CUT

Ryan Macri

+1

72

CUT

Wyatt Hughes

+1

72

CUT

Jackson Bode

+1

72

CUT

Jack Marcotte

+1

72

CUT

Kyle Kushnir

+1

72

CUT

Andrew Graham

+1

72

CUT

Noah Connor

+1

72

CUT

Cameron Akers

+1

72

CUT

Zach Pardoll

+2

73

CUT

Carter Busse

+2

73

CUT

Minor Hinson III

+2

73

CUT

Nicholas Mayfield

+2

73

CUT

Cameron Whitney

+2

73

CUT

Brady Hooks

+2

73

CUT

Ayush Bodhale

+2

73

CUT

Austin Holland

+3

74

CUT

Austin Brooks

+3

74

CUT

Joseph Kalaskey

+3

74

CUT

Mitchell Tanis

+3

74

CUT

Ben Morehead

+3

74

CUT

Andrew Wood

+3

74

CUT

Chris Poor

+3

74

CUT

Trent Cade

+3

74

CUT

Hank Robins

+3

74

CUT

Anthony Sutton

+3

74

CUT

Ford Reynolds

+4

75

CUT

Manning Sloop

+4

75

CUT

Zach Gilbert

+4

75

CUT

Garrett Clark

+4

75

CUT

Luke Cashion

+4

75

CUT

Graham Chase

+4

75

CUT

Ian Johnson

+4

75

CUT

Riley Smith

+4

75

CUT

Timmy Gannon

+5

76

CUT

Owen Swavely

+5

76

CUT

Griffin Tarver

+5

76

CUT

Wills Kelly

+5

76

CUT

Jack Hart

+5

76

CUT

Austin Miller

+6

77

CUT

Jace Arko

+6

77

CUT

Chris Ha

+6

77

CUT

Max Jacobson

+6

77

CUT

Dylan Smith

+6

77

CUT

Alexander Rubino

+6

77

CUT

Karsten Shields

+7

78

CUT

Landon Barnes

+7

78

CUT

Jackson Maynor

+7

78

CUT

Charlie Barr

+7

78

CUT

Will Fowler

+7

78

CUT

Matthew Song

+7

78

CUT

Nick Rubino

+7

78

CUT

Hampton Roberts

+8

79

CUT

John Fahey

+8

79

CUT

Nicholas Song

+8

79

CUT

Parker Cumbea

+8

79

CUT

Mack Pearsall

+9

80

CUT

Ben McCartney

+9

80

CUT

Samuel Nester

+9

80

CUT

Austin Alexander

+9

80

CUT

Zachary Murrow

+9

80

CUT

Adam Budd

+9

80

CUT

Jake Clodfelter

+9

80

CUT

Jack Coates

+9

80

CUT

Mason Tucker

+9

80

CUT

Ezra Park

+9

80

CUT

Collin Adams

+10

81

CUT

Evan Mendyk

+10

81

CUT

Colin Browning

+11

82

CUT

Lucas Schroeder

+12

83

CUT

Mavrick Mullinax

+12

83

WD

Clinton Daly

-

WD

NS

Ian Podziewski

-

NS
Related: Hole-by-Hole Scoring | Tournament Website