Hunt Holds Round One Lead at the Jimmy Anderson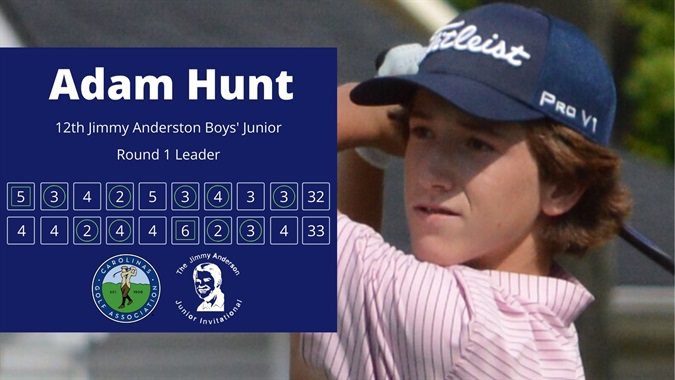 JACKSONVILLE, N.C. (June 1, 2020) -- First round results of the 12th Jimmy Anderson Boys' Junior Invitational at Jacksonville Country Club in Jacksonville, N.C. on June 1, 2020.
Related: Championship Web Site | Starting Times | Scoring | History
Adam Hunt of Columbia, S.C. holds a commanding three-shot lead after round one of the Jimmy Anderson Boys' Junior Invitational. Hunt made nine birdies and two bogeys in route to shooting a 7-under, 65 in Monday's round.
Jackson Bode of Pinehurst, N.C. sits alone in second place after an opening round score of 4-under, 68. Trey Crenshaw of Lancaster, S.C. and Bradley Davis, Jr. of Pilot Mountain, N.C. are tied for third place at 3-under-par. Only 14 golfers were able to shoot even par or better in the opening round including our defending champion, Mason Tucker of Lancaster, S.C. who finished five shots back of our leader after round one at 2-under-par.
Tuesday's final round will begin at 8 a.m. with our final group teeing off at 11:30 a.m.
The CGA will be conducting this championship under the new COVID-19 Tournament Protocols. Learn more here.