Preview: 24th NC Junior Girls' Championship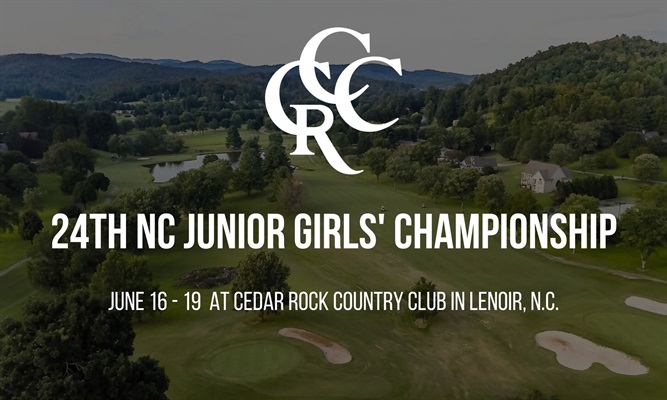 SOUTHERN PINES, N.C. (June 12, 2020) -- The Carolinas Golf Association will conduct the 24th North Carolina Junior Girls' Championship at Cedar Rock Country Club in Lenoir, N.C. from June 16 - 19, 2020. (6,000 yards, par 36-36--72)
The CGA will be conducting this championship under the new COVID-19 Tournament Protocols. Learn more here.
Related: Championship Web Site | Full Field of Players | Starting Times | History
Players to watch:
Nicole Adam of Pinehurst, N.C. is ranked the No. 1 golfer in the Carolinas Junior Girls' Rankings and will be an incoming Freshman at UNC later this fall. Adam won the PKBGT Open Championship in May and has finished in the top-10 in each of her last six appearances. Adam also claimed the victory at the 2018 CGA Dogwood State Junior Girls' Championship. She is the reigning Carolinas Junior Girls' Player of the Year and N.C. Junior Girls' Player of the Year.


Maria Atwood of Holly Springs, N.C. was the runner-up in the 2019 N.C. Junior Girls' Championship and is ready to make a run for the title again this year. Atwood has played in 19 tournaments in the last year and finished in the top-10 16 times. This includes a win at the Madyson Kay Scott Memorial and runner-up at the Jimmy Anderson Girls' Championship and the Carolinas-Georgia Junior. She is the No. 4 ranked golfer in the Carolinas Junior Girls' Rankings.


Morgan Ketchum of Winston-Salem, N.C. showed out at the Carolinas Women's Amateur two weeks ago and finished tied for second at her first event back this summer. Ketchum is the reigning Carolinas Girls' 15 & Under champion and has had six top-5 finishes in the last year, including a runner-up in the Peggy Kirk Bell Junior at Pine Needles and the College Prep at Vanderbilt. Ketchum holds the No. 22 rank in the Carolinas Junior Girls' Rankings.

Cedar Rock Country Club offers lush Bermuda fairways and Bentgrass greens surrounded by panoramic views of the Western North Carolina mountains. This is the first time that the North Carolina Junior Girls' Championship will be played at Cedar Rock Country Club.
The championship format is 36 holes of stroke play qualifying followed by match play. Top 32 in stroke play qualifying advance to match play. Players will be seeded based on qualifying score. All ties for seeds 1-31 will be broken by blind draw. Ties in stroke play qualifying for the last spot in match play will be broken by an on-course playoff. When a player loses a match, she is eliminated from the competition. There are no consolation matches.
Entry is open to any female amateur golfer ages 12 to 18 as of June 19, 2020, who has not started college, is a legal resident of North Carolina, is a member in good standing of a club which is a member of the Carolinas Golf Association (CGA) and has a current USGA Handicap Index® at a CGA member club.
Schedule of rounds:

Monday, June 15: Practice Rounds Available
Tuesday, June 16: Stroke Play Qualifying
7:30 a.m. - 10:00 a.m. Round 1 Starting Times
12:30 p.m. - 3:00 p.m. Boxed lunches available for players
Wednesday, June 17: Stroke Play Qualifying and Round of 32 Matches
7:30 a.m. - 10:00 a.m. Round 2 Starting Times
12:30 p.m. - 3:00 p.m. Boxed lunches available for players
2:30 p.m. Cut to 32 for Match Play
3:00 p.m. Round of 32 Matches Shotgun Start
Thursday, June 18: Round of 16 and Quarterfinals Matches
8:00 a.m. - 9:00 a.m. Round of 16 Starting Times
12:00 p.m. - 2:00 p.m. Quarterfinals Starting Times
Friday, June 19: Semifinals and Final Match Play
8:00 a.m. - 8:30 p.m. Semifinals Starting Times
12:00 p.m. Final Match
About the Carolinas Golf Association (CGA)
The CGA is a 501(c)(3) not-for-profit educational organization that was founded in 1909 to promote and to protect the game of golf in the Carolinas by providing competitions, education, support and benefits to golf clubs and golfers. The CGA is the second largest golf association in the country with over 700 member clubs represented by nearly 150,000 individuals.
The CGA annually conducts 48 championships and five team match competitions for men, women, juniors, and seniors. It also runs over 150 One-Day (net and gross) events as well as qualifying for USGA national championships. The CGA serves golf in the Carolinas with numerous programs such as: the USGA Handicap System; tournament management software and support; course measuring and course/slope ratings; agronomy consultation; answers about the Rules of Golf, Rules of Amateur Status, and Handicapping; Carolinas Golf Magazine; Interclub series; Tarheel Youth Golf Association; Carolinas Golf Hall of Fame; expense assistance for USGA Junior and Girls' Junior qualifiers from the Carolinas; and the Carolinas Golf Foundation (CGF). The CGF has distributed nearly $2,000,000 since 1977 to benefit Carolinas' golf initiatives including junior and women's programs.
For more information about the CGA, visit our website.
##30##