Ketchum Claims 24th NC Junior Girls' Championship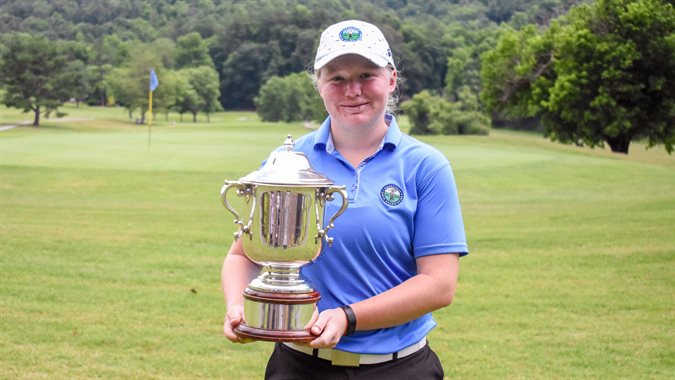 LENOIR, N.C. (June 19, 2020) -- Semifinals and Final Match results of the 24th North Carolina Junior Girls' Championship at Cedar Rock Country Club in Lenoir, N.C. from June 17 - 19, 2020. (6,000 yards, par 36-36--72)
The CGA will be conducting this championship under the new COVID-19 Tournament Protocols. Learn more here.
Related: Championship Web Site | Full Field of Players | Scoring | History | Photos
Semifinals Results:
The Semifinals began yesterday, June 18 but were not able to be completed due to suspension of play for weather. The two matches were completed this morning.
Morgan Ketchum of Winston-Salem, N.C. and Macy Pate of Boone, N.C. resumed their match on No. 6. Ketchum was 2 up at the start of the morning, but Pate started off strong taking No. 7 leaving Ketchum 1 up.
After No. 7, Ketchum tied or won every single hole until she secured her seat in the Final Match. She went 2 up on No. 8, 3 up on No. 9, 4 up on No. 10, 5 up on No. 12 and finished the match 6 and 5 on No. 13.
Kayla Dowell of Mebane, N.C. and Maria Atwood of Holly Springs, N.C. resumed their match tied on the 9th green. Atwood's first move was sinking a birdie putt to win No. 9 and that set the tone for the next few holes. Atwood worked her way hole-by-hole to 3 up through No. 14, until the tides turned.
Dowell started with a birdie on par-3, No. 15 and did not stop until they were tied on the 18th green. The match went into not one, but two extra holes ending with a clutch par save for Dowell on their 20th hole.
Ketchum and Dowell are set to face off in the Final Match to determine who will be the 24th North Carolina Junior Girls' Champion.
Final Match Results:
Morgan Ketchum of Winston-Salem, N.C. defeated Kayla Dowell of Mebane, N.C., 3 and 2. Ketchum took a short, early lead going 1 up after a par on No. 3. After Dowell won No. 4, she continued to lead or tie every hole until the back nine.
"I knew that I wasn't hitting the ball as well as I needed to during that stretch so I was just trying to manage that and get it closer to the pin so that I could make some putts," said Ketchum.
On No. 10, Ketchum drained a 40-footer to get her momentum rolling and tied with Dowell. From there Ketchum widened the gap going 1 up on No. 11 and 2 up on No. 13.
"I went into the match knowing that I had to make putts. I just wanted to get my approach shots close and take more chances, but I think it really started when I made that 40-footer on No. 10," said Ketchum. "After bringing it back to a tie, I felt more confident and I got some momentum going."
While Ketchum and Dowell were approaching No. 16, a thunderstorm was approaching faster. Ketchum was 2 up through No. 15 and she knew if she won No. 16 that the match was over, so Morgan did exactly that. Ketchum said, "Walking up No. 16 I knew that I needed to win that last hole before the storm came, so I just got to the green and closed it out."
Ketchum expressed her excitement for the victory saying, "I am really happy to have won this championship. I definitely invested a lot of time into this tournament so winning this was a lot of fun." This is Ketchum's second CGA championship title, as she is the reigning 2019 Carolinas Junior Girls' 15 and Under Champion as well.
The CGA would like to thank the members and staff of Cedar Rock Country Club for their amazing hospitality in hosting the North Carolina Junior Girls' Championship, especially Robert Nowak, head golf professional. The CGA would also like to especially thank the maintenance staff and the Golf Course Superintendent, Robert Reid, for keeping the course in such great shape during a tough weather week. Their hard work and flexibility is greatly appreciated. Also we would also like to thank the players and spectators for their understanding and adherence to the new COVID-19 tournament protocols.
North Carolina Junior Girls' Championship
Cedar Rock Country Club | Lenoir, N.C.
Semifinals Results
Kayla Dowell, Mebane, N.C., def., Maria Atwood, Holly Springs, N.C., 20 holes
Morgan Ketchum, Winston-Salem, N.C., def. Macy Pate, Boone, N.C., 6 and 5
North Carolina Junior Girls' Championship
Cedar Rock Country Club | Lenoir, N.C.
Final Match Results
Morgan Ketchum, Winston-Salem, N.C., def. Kayla Dowell, Mebane, N.C., 3 and 2
About the Carolinas Golf Association (CGA)
The CGA is a 501(c)(3) not-for-profit educational organization that was founded in 1909 to promote and to protect the game of golf in the Carolinas by providing competitions, education, support and benefits to golf clubs and golfers. The CGA is the second largest golf association in the country with over 700 member clubs represented by nearly 150,000 individuals.
The CGA annually conducts 48 championships and five team match competitions for men, women, juniors, and seniors. It also runs over 150 One-Day (net and gross) events as well as qualifying for USGA national championships. The CGA serves golf in the Carolinas with numerous programs such as: the USGA Handicap System; tournament management software and support; course measuring and course/slope ratings; agronomy consultation; answers about the Rules of Golf, Rules of Amateur Status, and Handicapping; Carolinas Golf Magazine; Interclub series; Tarheel Youth Golf Association; Carolinas Golf Hall of Fame; expense assistance for USGA Junior and Girls' Junior qualifiers from the Carolinas; and the Carolinas Golf Foundation (CGF). The CGF has distributed nearly $2,000,000 since 1977 to benefit Carolinas' golf initiatives including junior and women's programs.
For more information about the CGA, visit our website.
##30##