Preview: 20th Mid-Atlantic Junior Girls' Challenge Matches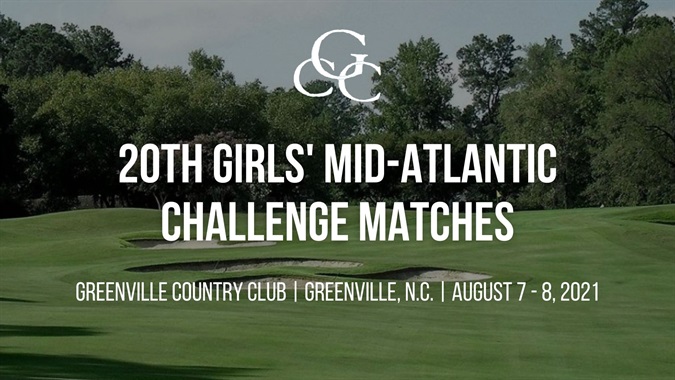 SOUTHERN PINES, N.C. (August 6, 2021) -- The Carolinas Golf Association in association with the Virginia State Golf Association and the Maryland State Golf Association will conduct the 20th Mid-Atlantic Junior Girls' Challenge Matches at Greenville Country Club in Greenville, N.C. from August 7 - 8, 2021. (6,035 yards; Par 35-36—71)
Related: Championship Web Site | Team Rosters | Scoring | History | Photos
The Mid-Atlantic Girls' Challenge Matches are an annual team match competition conducted by the Carolinas Golf Association in conjunction with the Virginia and Maryland State Golf Associations. The Challenge is an invitation-only event pitting top junior girls from North Carolina and South Carolina against a team from Virginia and Maryland. Girls' team members must be 18 years of age or younger and must not have started college.
The championship is conducted over two rounds of matches. The first round is a four-ball match play format and the second round is singles matches. There are 12 total points available. The Carolinas Team is the defending champion and needs 6 points to retain the cup while the Virginia/Maryland team needs 6½ points to win the cup.
Carolinas Team Roster: Check out the video below to learn more about the 20th Carolinas Junior Girls' Team.
Adrian Anderson of Murrells Inlet, S.C.
Maria Atwood of Holly Springs, N.C.
Morgan Ketchum of Winston-Salem, N.C.
Emily Mathews of Mebane, N.C.
Nicole Nash of Charlotte, N.C.
Macy Pate of Winston-Salem, N.C.
Sydney Roberts of Chesnee, S.C.
Alexia Siehl of Fort Mill, S.C.
Schedule of Rounds
Saturday, August 7
Four-Ball Match Play, starting at 8:00 a.m.
Sunday, August 8
Singles Matches, starting at 8:00 a.m.
About the Carolinas Golf Association (CGA)
The CGA is a 501(c)(3) not-for-profit educational organization that was founded in 1909 to promote and to protect the game of golf in the Carolinas by providing competitions, education, support and benefits to golf clubs and golfers. The CGA is the second largest golf association in the country with over 700 member clubs represented by nearly 150,000 individuals.
The CGA annually conducts 48 championships and five team match competitions for men, women, juniors, and seniors. It also runs over 150 One-Day (net and gross) events as well as qualifying for USGA national championships. The CGA serves golf in the Carolinas with numerous programs such as: the USGA Handicap System; tournament management software and support; course measuring and course/slope ratings; agronomy consultation; answers about the Rules of Golf, Rules of Amateur Status, and Handicapping; Carolinas Golf Magazine; Interclub series; Tarheel Youth Golf Association; Carolinas Golf Hall of Fame; expense assistance for USGA Junior and Girls' Junior qualifiers from the Carolinas; and the Carolinas Golf Foundation (CGF). The CGF has distributed nearly $2,000,000 since 1977 to benefit Carolinas' golf initiatives including junior and women's programs.
For more information about the CGA, visit our website.
##30##