Vicki DiSantis Named 2023 Distinguished Service Award Recipient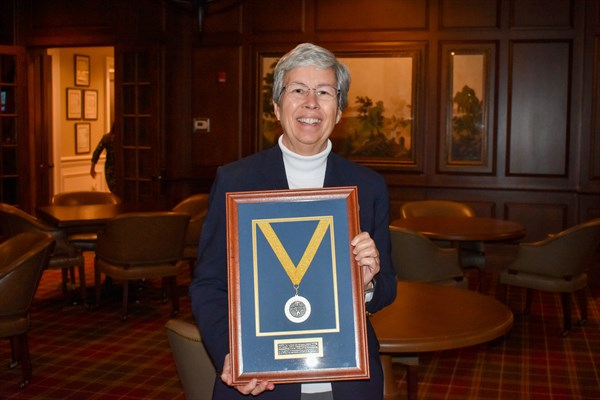 SOUTHERN PINES, N.C. (April 25, 2023) – Every year, the CGA conducts over 300 tournaments and provides course ratings and several other services. With these numerous services, we rely heavily on the assistance of volunteers throughout the Carolinas. Therefore, annually we award a volunteer or group whose exceptional devotion to golf in the Carolinas stands out with the Charles E. Lynch, Jr. Distinguished Service Award. This year, we are incredibly pleased to announce Vicki DiSantis has earned the 2023 honor.
"I am honored to receive this award named for Charlie Lynch," said DiSantis. "He is the epitome of volunteering for the CGA."
Born and raised in Wilkesboro, NC, she graduated from Appalachian State University with a degree in Elementary Education. DiSantis would go on to teach sixth grade for ten years.
DiSantis and her husband Paul have been members of several clubs over the year as they enjoyed playing different courses. She and her husband, Paul, have one adopted daughter, Jennifer, and will celebrate 50 years of marriage this August.
Paul taught her to play shortly after they were married. "He was a scratch handicap…and boy, was he patient!... because I was really bad." joked DiSantis. "He first had me go with him when he played; to teach me about etiquette and how the game was played. Then, after a year, he started teaching me to hit the ball. I really appreciated that early instruction on the game after I started to play with other people. I like golf because you get to be in nice places with nice people," added DiSantis.
Anyone who has had the pleasure of meeting DiSantis knows that her passion is junior girls' golf. "I am always impressed with the young ladies who are smart, hard-working, polite, well-mannered, physically fit… I have met the very nicest girls and their families. How blessed I have been to be a small part of their lives." remarked DiSantis.
Vicki started volunteering with the CGA in 1989 as a course rater when she lived in Durham. She also did course rating after they moved to Pinehurst. In 2000 DiSantis started doing some work as a rules official, and in addition, she was on the CGA Board of Directors for several years.
She was also on the NCWGA board from 1992-2001. DiSantis was also the Junior Girls' Director of the WCGA (Women's Carolinas Golf Association), which is no longer in existence. During that stretch, she ran the Twin States and the Carolinas Junior Girls' Championships, which were pretty much all the girls had to play in then. The WCGA also started and ran the WCGA Junior Girls' Championship (now the CGA Girls' 15 and Under). Additionally, she has been on the USGA Girls' Junior Committee (now just "the Committee") since 2001. You could also find DiSantis working as a rules official at girls' high school championships, PKBs, North and Souths, and college tournaments. During the years prior to the CGA assuming responsibility for the WCGA championships, junior girls' events and women's events were run by volunteers. She was following in the footsteps of women like Linda Marsh and Barbara Kuhn, who ran the Twin States and the Carolinas Junior Girls' before her.
Aside from golf, she was a Guardian ad Litem for many years, which is how she met her daughter. She also did some tutoring through her church.
DiSantis had many people she wanted to thank, including all the staff at the CGA, for their support and friendships over the years… especially Jason Cox, Maggie Watts, and Killian Casson. She also wishes to thank fellow volunteers Lynlee Long (who worked with her during the WCGA years), KC Sorvari, and Dot Dube' whom she's traveled with all over the Carolinas, working at junior girls' tournaments. But mostly, she wishes to thank her husband, Paul. "He has always encouraged me to go and do what I love. He has been my biggest supporter, and enabled me to do all I have done," remarked DiSantis.
More proof of her long time commitment to golf in the Carolinas: since 2006, the aptly named Vicki DiSantis Girls' Championship runs as an important stop on the CGA competitive schedule.
Vicki's motto: Volunteering: A Work of Heart
About the Charles E. Lynch, Jr. Distinguished Service Award
The Carolinas Golf Association established the Charles E. Lynch, Jr. Distinguished Service Award at its 2016 Annual Meeting. Mr. Lynch began his service to the CGA in 1977 becoming its legal counsel and board member. Since then he has contributed countless hours of insight and advice to help mold one of the largest golf associations in the country. He has gone above and beyond the call as a CGA volunteer, executive committee member, and legal counsel. This award will honor an individual or group whose actions have done just that.

Past Charles E. Lynch, Jr. Distinguished Service Award Recipients:
2016 – Charles E. Lynch, Jr.
2017 – Ellen Shulby
2018 – Joyce Wittman
2019 – Ben Payne
2020 – Larry McWane
2021 – Dan O'Connell
2022 – Ben Maffitt

The CGA is continuously seeking willing and capable persons to assist us in the areas of Rules Officiating, Tournament Volunteers and Course Raters. For more information on how you can help, visit www.CarolinasGolf.org/Volunteer.