US Open Local Qualifying - DeBordieu Club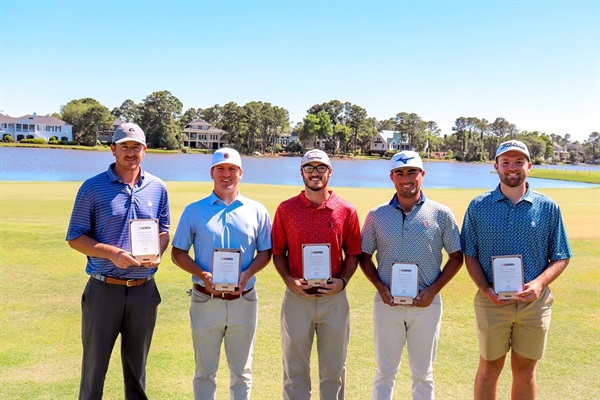 GEORGETOWN, S.C. (May 9, 2022) -- Final results from U.S. Open Local Qualifying at DeBordieu Club in Georgetown, S.C. on Monday, May 9, 2022. (7,014 yards, par 36-36--72).
Five qualifying spots and two alternate spots were available at this qualifying site.
Logan Sowell of Bluffton, S.C. earned medalist honors with a round of two-under-par 70. Three players shot rounds of one-under-par 71 to punch their ticket to Final Qualifying: Andrew Swanson of Bluffton, S.C., Avery Price of Georgetown, S.C. and Bryson Nimmer of Okatie, S.C. Three players finished at even-par 72 and headed to a playoff to determine the final qualifying position and the alternate positions. Blaine Bunch of Savannah, GA won the final qualifying position. Morgan Deneen of Myrtle Beach, S.C. will be the first alternate and Chris Nallen of Charlotte, N.C. will be the second alternate.
The qualifiers will advance to Final Qualifying on May 23 or June 6. The 122nd U.S. Open Championship will be played at The Country Club in Brookline, Massachusetts from June 16-19, 2022.
Hole-by-hole scoring can be viewed here.
US Open Local Qualifying Results
DeBordieu Club, Georgetown, S.C.
May 9, 2022
Pos.

Player

Affiliation

To Par

Total Score

Details

1

Logan Sowell (p)

Bluffton, South Carolina

-2

70

T2

Andrew Swanson

Bluffton, South Carolina

-1

71

T2

Avery Price

Georgetown, South Carolina

-1

71

T2

Bryson Nimmer (p)

Okatie, South Carolina

-1

71

5

Blaine Bunch (p)

Savannah, Georgia

E

72

The following players did not make the cut

CUT

Morgan Deneen (p)

Myrtle beach, South Carolina

E

72

First Alternate

CUT

Chris Nallen (p)

Charlotte, North Carolina

E

72

Second Alternate

CUT

Ryan Hall (p)

Knoxville, Tennessee

1

73

CUT

Evan Gfeller (p)

Greenville, South Carolina

1

73

CUT

Tommy Schaff (p)

Ridgeland, South Carolina

2

74

CUT

Ian Holt (p)

Mount pleasant, South Carolina

2

74

CUT

Dalton Ward (p)

St simons island, Georgia

2

74

CUT

Jimmy Shaw (p)

Woodruff, South Carolina

2

74

CUT

Jeremiah Bane

Grove city, Ohio

2

74

CUT

Calahan Keever

Greenville, South Carolina

2

74

CUT

Allen Caldwell

Johnâ s island, South Carolina

2

74

CUT

Vince Hatfield (p)

Okatie, South Carolina

3

75

CUT

Connor Newton

Auburn, Alabama

3

75

CUT

Trey Crenshaw

Lancaster, South Carolina

4

76

CUT

Alejandro Guillen

Savannah, Georgia

4

76

CUT

Matt Carter (p)

Easley, South Carolina

4

76

CUT

Jonathan Griz

Hilton head island, South Carolina

4

76

CUT

Alan Smith

Winchendon, Massachusetts

4

76

CUT

Jarrett Swan (p)

Mount pleasant, South Carolina

4

76

CUT

Max Green

Okatie, South Carolina

4

76

CUT

Judson Holliday (p)

Aynor, South Carolina

5

77

CUT

David Kostyal Ii (p)

Wilmington, North Carolina

5

77

CUT

Daniel Ezelle

Taylors, South Carolina

5

77

CUT

Reed Lotter

Savannah, Georgia

5

77

CUT

Tyler Fox

Hilton head island, South Carolina

6

78

CUT

Colt Ingram

Aiken, South Carolina

6

78

CUT

Cory Martin (p)

North myrtle beach, South Carolina

6

78

CUT

Randolph Darden (p)

Charleston, South Carolina

6

78

CUT

Andrew Propes

Charleston, South Carolina

7

79

CUT

Kieran Staunton (p)

Hilton head island, South Carolina

7

79

CUT

Jonathan Hardee (p)

Boiling springs, South Carolina

7

79

CUT

Phil Haug

Savannah, Georgia

7

79

CUT

Caleb Click

Little river, South Carolina

7

79

CUT

Archer Price

Greenville, South Carolina

7

79

CUT

Connor Thomas

Conway, South Carolina

8

80

CUT

John Cook (p)

Myrtle beach, South Carolina

8

80

CUT

Mickey Lankford (p)

North charelston, South Carolina

8

80

CUT

Max Dupree

Eatonton, Georgia

9

81

CUT

Deven Cerda (p)

Charlotte, North Carolina

9

81

CUT

Marion Dantzler (p)

Orangeburg, South Carolina

9

81

CUT

Ryan Kaufmann

Hilton head island, South Carolina

9

81

CUT

John Osborne

Seabrook island, South Carolina

9

81

CUT

Dean Halterman (p)

Leland, North Carolina

10

82

CUT

Thomas Ford

Hilton head island, South Carolina

10

82

CUT

Jayson Jennings

Fuquay-varina, North Carolina

10

82

CUT

Caelan Sammy

Ottawa, Ontario

10

82

CUT

Luke Nelson

Raleigh, North Carolina

11

83

CUT

Austin Morgan

Charleston, South Carolina

11

83

CUT

Dale Ketola (p)

North myrtle beach, South Carolina

11

83

CUT

Joseph Falk

Port huron, Michigan

11

83

CUT

Rich Montgomery

Little river, South Carolina

11

83

CUT

Scott Sullivan

Blythewood, South Carolina

12

84

CUT

Logan Hjelm (p)

Myrtle beach, South Carolina

12

84

CUT

John Obrien

Columbia, South Carolina

13

85

CUT

Miles Svoboda

Nashville, Tennessee

13

85

CUT

Erik Golden

Conway, South Carolina

13

85

CUT

Brad Sill (p)

Spartanburg, South Carolina

13

85

CUT

Michael Blaesser

Johns island

14

86

CUT

Joel Cutlip (p)

Myrtle beach, South Carolina

14

86

CUT

Lee Jakobsen

Charleston, South Carolina

15

87

CUT

Christopher Asbell

Johns island, South Carolina

15

87

CUT

Brandon Hartzell

Johns island, South Carolina

17

89

CUT

Peter Skirpstas (p)

Mount pleasant, South Carolina

17

89

CUT

James Bartol (p)

Florence, South Carolina

17

89

CUT

Cale Ledford (p)

Duncan, South Carolina

17

89

CUT

Daniel Knight

Murrells inlet, South Carolina

20

92

CUT

Zach Adams

Charleston, South Carolina

21

93

CUT

Ryan Whitehead

Sudbury, Massachusetts

23

95

WD

Zac Lewis

Winnabow, North Carolina

-

WD

WD

Tyler Hehman

Pawleys island, South Carolina

-

WD

WD

Mike Ramsden (p)

Mount pleasant, South Carolina

-

WD

NS

Whitten Meares

Charleston, South Carolina

-

WD

NS

Gerald Doe (p)

Myrtle beach, South Carolina

-

NS

NS

Tyler Gray

Lugoff, South Carolina

-

NS

NS

Luke Edwards

Chapel hill, North Carolina

-

NS

NS

Patrick Cover (p)

Cornelius, North Carolina

-

NS