Browning Captures the 13th N.C. Amateur Match Play Victory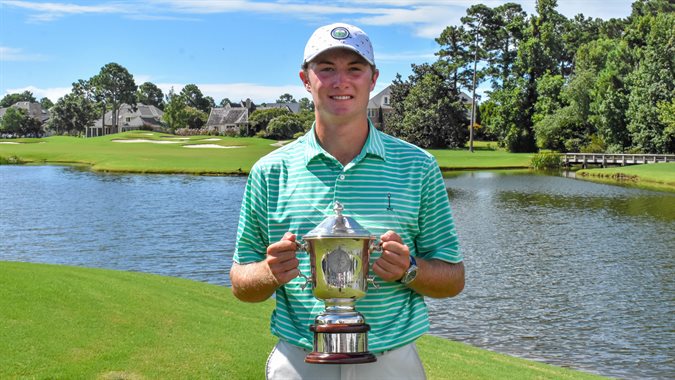 WILMINGTON, N.C. (August 7, 2022) -- The final results of the 13th North Carolina Amateur Match Play Championship at the Country Club of Landfall (Nicklaus) in Wilmington, N.C. on August 7, 2022. The field competed at 7,000 yards, par 36-36--72.
Related: Championship Website | Full Field | Starting Times | Scoring | History | Photos
In the championship match at the beautiful, yet challenging Country Club of Landfall's Nicklaus Course spectators witnessed 11 birdies, two holes tied with birdies, two holes won with eagles, and one newly-minted champion crowned. On the 17th green in dramatic fashion, Colin Browning of Charlotte, N.C. defeated Michael La Sasso of Raleigh, N.C. 3 & 1 with a 20-foot eagle putt.
In route to the championship match, both Browning and La Sasso captured victories in their first four matches. Browning won his Round of 32 match with one of the largest margin wins this week going 6 & 5 to earn his Round of 16 spot. Then he won 2 & 1, 5 & 4, and 2 & 1 until he earned his seat in the championship match, never reaching the 18th hole after match play began.
La Sasso won his first three matches 2 up, 3 & 1, and 2 up. However, his most impressive performance leading up to the championship match was his semifinals match against Harrison Wierse of Wilmington, N.C. Wierse earned medalist in the stroke play qualifying and dominated his first three matches. In their semifinals match against each other, La Sasso went 5-under, 31 on the front nine and Wierse answered back with a 4-under, 32, but La Sasso was dialed in and was able to take the match in a swift 4 & 2 finish.


Coming into the final day, Browning and La Sasso both remarked on how excited they were to play against each other in the championship match. The two competitors have been friends for years and both expressed immense respect for each other's games.


The match got off to a steady start both carding par on the first hole, but after a great chip shot from Browning to about a foot for birdie on No. 2 things started to heat up. Browning extended his lead to 2 up through 4 with a par to win No. 4, but La Sasso was ready to fight back.


The incoming freshman at North Carolina State University won No. 6 to go 1 down and diminished Browning's lead with a 15-foot eagle putt on No. 8. This got the momentum going for La Sasso and lit a fire under Browning as they made the turn tied. The level of talent displayed on the back nine from the two incredible match play players can best be described as remarkable.


"On the back nine, Michael (La Sasso) and I played really well," said Browning. "We both drove the green on No. 10 and made birdies. I birdied No. 11. He birdied No. 13. We both birdied No. 14. Then we made it to No. 15…"


No. 15 is a 191 yard, par-3 and coming into the hole, Browning was 1 up after winning Nos. 11 and 12 while La Sasso claimed No. 13. La Sasso teed off first landing on the right fringe about 10 yards from the hole. Then Browning hit a phenomenal shot that appeared dangerously close to an ace, but rolled to about one foot for a clutch birdie to go 2 up through No. 15.


On No. 16, they tied the hole with pars to head to No. 17. All Browning needed to do was tie the hole to win 2 & 1, but he had different plans. Both drives off the tee were solid and in the fairway. La Sasso hit his approach shot just over the green and had a daunting chip ahead of him down a downhill slope. Browning hit the front of the green and was about 20 feet away with an uphill putt for eagle.


"He (La Sasso) nearly chipped it in," said Browning. "It went just over the edge, but he ended up making par. I was just trying to make sure I was close and didn't blow it by the hole so I played it a ball or two out. This week I wasn't worried about making 20-footers. I just wanted to make sure that I wasn't blowing anything past the hole more than a foot. On No. 17 I wasn't expecting it, but it just dripped in."


The rising junior at Appalachian State sealed his first CGA victory with that putt to capture the match 3 & 1 on No. 17 with his friend and teammate turned caddy standing right by his side. "I had a great caddy this week," said Browning. "My teammate Josh Buxbaum caddied for me and we just had a really good time out there. He kept me calm and relaxed and he also gave me great reads, which made it even more fun out there."


After several handshakes, Browning was stormed by his family and friends ready to congratulate him on the big win. "My birthday was on Friday and to have my family and friends here for that and for this win was a really great feeling. It has been a great week, hopefully there are more like this in the future," said the gracious champion.
The Carolinas Golf Association would like to extend a special thank you to the members and staff at the Country Club of Landfall for their warm welcome and hospitality, especially Head Golf Professional Jason Cherry, Golf Course Superintendent Jeff Mack, in hosting the 13th North Carolina Amateur Match Play Championship.
13th North Carolina Amateur Match Play Championship
Country Club of Landfall (Nicklaus), Wilmington, N.C.
Match Play Results

About the Carolinas Golf Association (CGA)
The CGA is a 501(c)(3) not-for-profit educational organization that was founded in 1909 to promote and to protect the game of golf in the Carolinas by providing competitions, education, support and benefits to golf clubs and golfers. The CGA is the second largest golf association in the country with over 700 member clubs represented by nearly 150,000 individuals.
The CGA annually conducts 48 championships and five team match competitions for men, women, juniors, and seniors. It also runs over 150 One-Day (net and gross) events as well as qualifying for USGA national championships. The CGA serves golf in the Carolinas with numerous programs such as: the USGA Handicap System; tournament management software and support; course measuring and course/slope ratings; agronomy consultation; answers about the Rules of Golf, Rules of Amateur Status, and Handicapping; Carolinas Golf Magazine; Interclub series; Tarheel Youth Golf Association; Carolinas Golf Hall of Fame; expense assistance for USGA Junior and Girls' Junior qualifiers from the Carolinas; and the Carolinas Golf Foundation (CGF). The CGF has distributed nearly $2,000,000 since 1977 to benefit Carolinas' golf initiatives including junior and women's programs.
For more information about the CGA, visit our website.
##30##