Interclub Playoff Brackets Announced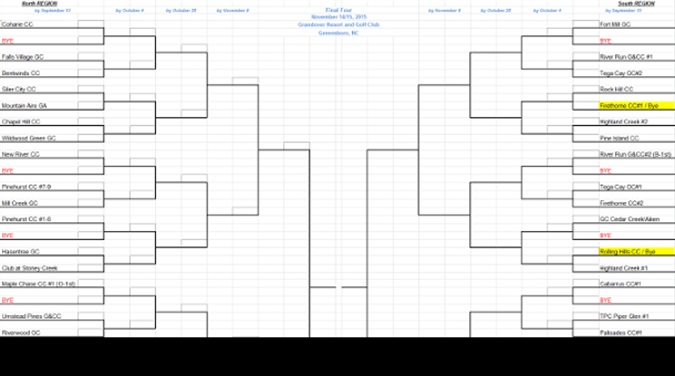 SOUTHERN PINES, N.C. -- The Carolinas Golf Association has announced a record 53-team, 2-bracket setup for this year's CGA Interclub Championship playoffs. Playoffs are divided into two regions, the North and South divisions.
This is the 18th CGA Interclub season that began in April with 79 teams competing in home and away matches within their respective group. Teams that finished 1st, 2nd, or had a .500 record within their groups qualified automatically for the playoffs.
This year's field includes the defending 2014 champions, The Creek Golf Association playing out of Highlands Country Club (Charlotte, NC) along with prior champions: Fort Mill Golf Club (Fort Mill, SC), Coharie Country Club (Clinton, NC), River Hills Country Club (Lake Wylie, SC), River Run Country Club (Davidson, NC) and Rock Hill CC (Rock Hill, SC).
Interclub playoff matches are single elimination with 12 players on each team competing for 18 match points. The playoff format (excluding the finals) involves 6 players from each club playing at home and on the opponent's course simultaneously. Ties are broken by a sudden-death play-off at both courses simultaneously.
Playoffs will begin the last week of August, culminating with the "Final-Four" teams competing for the Championship at Grandover Resort (East Course) in Greensboro, NC on November 14 & 15. The semi-finals will be played Saturday with the two remaining teams facing each other in the finals on Sunday.
Additional information including playoff bracket and results may be found on the Carolinas Interclub website: https://www.carolinasgolf.org/championship/home/15interclub/year/2015#
NORTH Region playoff bracket: https://www.ghintpp.com/carolinasgolf/TPPTeamClubPlay/Reports/PlayoffBracket.aspx?ID=255
SOUTH Region playoff bracket: https://www.ghintpp.com/carolinasgolf/TPPTeamClubPlay/Reports/PlayoffBracket.aspx?ID=256
About the Carolinas Golf Association (CGA)
The CGA is a 501(c)(3) not-for-profit educational organization that was founded in 1909 to promote and to protect the game of golf in the Carolinas by providing competitions, education, support and benefits to golf clubs and golfers. The CGA is the second largest golf association in the country with over 700 member clubs represented by nearly 150,000 individuals.
Now in its 106th year, the CGA annually conducts 43 championships and five team match competitions for men, women, juniors, and seniors. It also runs over 140 One-Day (net and gross) events and qualifying for USGA national championships. The CGA serves golf in the Carolinas with numerous programs such as: the USGA Handicap System; tournament management software and support; course measuring and course/slope ratings; agronomy consultation; answers about the Rules of Golf, Rules of Amateur Status, and Handicapping; Carolinas Golf Magazine; Interclub series; Tarheel Youth Golf Association; Carolinas Golf Hall of Fame; expense assistance for USGA Junior and Girls' Junior qualifiers from the Carolinas; and the Carolinas Golf Foundation (CGF). The CGF has distributed more than $1,500,000 since 1977 to benefit Carolinas' golf initiatives including junior and women's programs.
For more information about the CGA, visit www.carolinasgolf.org.
##30##