Carolinas Sr Interclub Final Four Results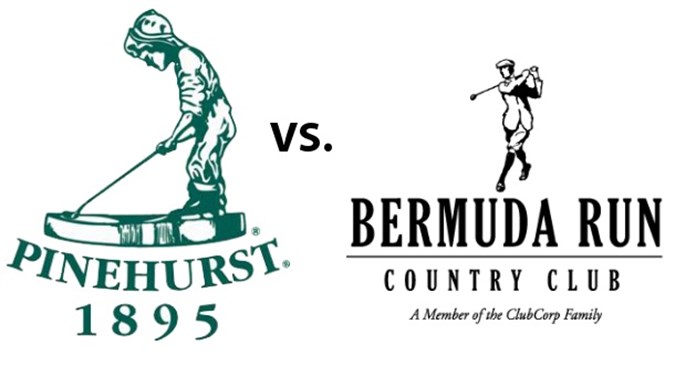 PINEHURST, N.C. (October 26, 2016) – From 45 teams who began the inaugural Carolinas Senior Interclub season, the final four competed Wednesday on Pinewild Country Club's Magnolia Course (Par 36-36--72, 5889 Yards). The format of the championship is four-ball match play for men ages 55 and older. Eight players from each team compete in four matches with six total points awarded in each match (two for front nine, two for back nine, two for overall match). This newly created senior season of the Carolinas Interclub series has been popular with contestants. "I've been playing golf for many years and I hadn't been this excited to play in a long time," said Dan Griffin of Bentwinds Country Club.
Related: Photo Gallery | East Region Finals Scoring | West Region Finals Scoring
Last week the Scramblers, the team representing Pinehurst Country Club's Course No. 5, defeated another Pinehurst Resort team from Course No. 3 to advance to the East Region Finals. There they faced Bentwinds Country Club from Fuquay Varina, N.C., who had knocked out Pinehurst Country Club teams from courses No. 9 and No. 7 in consecutive weeks. The Scramblers edged Bentwinds 13-11, earning the deciding point by halving the back 9 of the final match left on the course. "We are proud to represent the four Pinehurst Country Club teams that were part of the Senior Interclub when we play in the finals tomorrow," said Jack Laflin, co-captain of the team representing Pinehurst Country Club's Course No. 5. "We upheld the honor of our club throughout today's matches."
Buoyed by a dominating opening performance in their first two matches, Bermuda Run Country Club from Advance, N.C. was able open a 11-1 lead against Northstone Country Club from Huntersville, N.C. in the West Region Finals. "Our leadoff guys did a great job of giving us an early advantage," said Bermuda Run team captain Dave Rosenblatt. Despite a 6-0 sweep of the final match by Northstone, Bermuda Run advanced to Thursday's final with a 15-9 victory.
When the 'Regular Interclub' (open to men over age 18) began in 1997, Bermuda Run Country Club won the first two years. The club now has the opportunity to win the inaugural Senior Interclub season. The final two teams will compete Thursday morning on the Magnolia Course of Pinewild Country Club beginning at 9:15am to crown the first champion of the Carolinas Senior Interclub.

Final Four Results

East Region Finals
Pinehurst Country Club Bentwinds Country Club
4 Raymond Bowles Jr / Bob Rhodes vs. 2 Bob Cox / Dan Griffin
3 Jim Fenner / Gary Gee vs. 3 Ed Beese / Howard Loyd
1 Parks Cobb / John W Taylor vs. 5 Rick Crompton / Ken Paul
5 Jack Laflin / Dan Bryant vs. 1 Paul Gurney / Rick Armstrong
13 11
West Region Finals
Northstone Country Club Bermuda Run Country Club
1 Bruce Piercy / Bill Dorsey vs. 5 Ken Schowald / Dean Holcomb
0 Stanley Couzen / Charlie Pippa vs. 6 Tal Brown / Ed Coley
2 Michael Ringuette / Al Flanagan vs. 4 Bobby Cox / Ronnie Grubbs
6 Robby Price / Robin Lindsey vs. 0 Peter E Schmidt / Gordon Niblock Jr.
9 15

About the Carolinas Golf Association (CGA)
The CGA is a 501(c)(3) not-for-profit educational organization that was founded in 1909 to promote and to protect the game of golf in the Carolinas by providing competitions, education, support and benefits to golf clubs and golfers. The CGA is the second largest golf association in the country with over 700 member clubs represented by nearly 150,000 individuals.
The CGA annually conducts 43 championships and five team match competitions for men, women, juniors, and seniors. It also runs over 140 One-Day (net and gross) events and qualifying for USGA national championships. The CGA serves golf in the Carolinas with numerous programs such as: the USGA Handicap System; tournament management software and support; course measuring and course/slope ratings; agronomy consultation; answers about the Rules of Golf, Rules of Amateur Status, and Handicapping; Carolinas Golf Magazine; Interclub series; Tarheel Youth Golf Association; Carolinas Golf Hall of Fame; expense assistance for USGA Junior and Girls' Junior qualifiers from the Carolinas; and the Carolinas Golf Foundation (CGF). The CGF has distributed more than $1,500,000 since 1977 to benefit Carolinas' golf initiatives including junior and women's programs.
For more information about the CGA, visit www.carolinasgolf.org.
##30##